ABSTRACT:
Tinea or ringworm fungi are very common infections and they can affect people of any age group and sex. Dyshidrotic eczema or pompholyx is not a contagious infection. Homoeopathy cured large cases of any type of fungal infection on the basis of symptomatic treatment.
INTRODUCTION
DERMATOPHYTOSIS-
Dermatophytosis are caused by a group of filamentous fungi known as dermatophytes or ringworm fungi. There are three genera of dermatophytes-
Trichophyton

Microsporum

Epidermophyton
TINEA CRURIS:
It is the involvement of crural regions like axillae and groins and inframammary, abdominal, and intergluteal folds which are warm and moist. Lesions are usually bilateral but asymmetrical. Prevention is by keeping the area dry and avoiding occlusive and synthetic undergarments Other sites of infection should be identified and treated.
POMPHOLYX OR DYSHIDROTIC ECZEMA:
It is an acute, chronic or recurrent dermatosis of the lateral aspects of fingers, palms, and soles characterized by symmetrical deep-seated pruritic, clear vesicles and later by scaling, fissures, and lichenification. Spontaneous remissions can occur in 2-3 weeks. Recurrence is the rule. Secondary infection may occur. Hyperhidrosis is common.
CASE DETAILS:
Name of The Patient: Mr.X

Age:60 Years

Sex: Male

Religion: Hinduism

Family: Nuclear (6)

Occupation: Electrician (Rtd)

Date:29-09-2021
PRESENTING COMPLAINT:
Location And Duration

Sensation And Complaint

Modalities A/F=

SKIN: Inframammary folds Since 2 years

Itching and burning ++
Watery thin discharge oozes out with blackish discoloration
A/F=Tobacco chewing
< At night++
<During perspiration+
<after exposure to the sun
<During and after scratching <During sleeping
<After exposure to water

SKIN; Fingers -left In between index and middle finger For 1 year

Itching and burning++
Vesicles with thin watery fluid discharge


Scales falling after the vesicles get broken

<During and after scratching
<During profuse perspiration ++
<wants to rub with the stones +++
<during and after scratching
<while dried up after taking a bath
<night ++
HISTORY OF PRESENTING ILLNESS:
The patient was apparently normal before the complaint, initially itching starts appears in inframammary folds especially during profuse perspiration and when were the patient started chewing tobacco the complaints gets worse, and started scratching and feels much burning pain especially after watery thin discharge oozes out and the skin color is changed to blackish discoloration soon after this he developed itching in his right middle and index finger with profuse perspiration and the patient started scratching continuously and he wants to rub his fingers with the stones and feels much better; for these complaints patient took allopathy medication and he feels better for sometimes but the complaints still persist .Now he is under homoeopathic medication.
HISTORY OF PAST ILLNESS:
Before 8-10 years -chikungunya- allopathy relieved;

For skin infection- Injections and multiple tablets (avil tablets)- under treatment
PERSONAL HISTORY:
Food – vegetarian

Addiction: Tea- 2 Cups /day; Tobacco chewing (8-10 years); Alcohol drinking (10 years); Smoking – 4 cigarettes/day(8-10 years)
GENERAL SYMPTOMS:
Appetite: Adequate (4 times per day )

Thirst: Increased (3.5 liters/day)

Sleep: Disturbed due to itching in the skin

Sweat: Increased (esp. folding of skin areas in axillary and inframammary folds and hands)

Stool: Regular (2 times per day)

Urine: Regular (4 times per day)

Dreams: Not specific

Desire to :

Spicy foods

Brinjal

Summer season ++

Covering up to the neck

Warm food

AVERSION TO :

Winter season

cold exposure

fanning

THERMAL – CHILLY

MENTAL GENERALS: Irritable due to his skin complaints; aversion to traveling; company – aggravation; slow speech; anger from contradiction; intolerance to contradiction.
PHYSICAL EXAMINATION :
B.P-112/78 mm of Hg ;

Pulse : 82 bpm

RR- 18/min; Temp-98.6oF;

Jaundice – No icterus;

Clubbing – nil

Anaemia – mild pallor;

Lymphadenopathy- nil

Cyanosis-nil.
SYSTEMIC EXAMINATION :
INSPECTION: Blackish discoloration and thin watery discharge oozing out from inframammary fold; scaling of skin in the index finger; profuse perspiration in the region of hand and inframammary folds.

PALPATION: warmth is present; profuse perspiration; normal elasticity of the skin

.
REPERTORIAL APPROACH:
CHRONIC REPERTORIAL TOTALITY: (Complete Dynamics Homeopathic Repertory Software)
| | | |
| --- | --- | --- |
| S.NO | SYMPTOMS | RUBRICS |
| 1. | Anger due to contradiction | Mind; anger; contradiction, from |
| 2. | Intolerance of contradiction | Mind; contradiction; ailments from, agg. |
| 3 | Company aggravation | Mind; company; agg. |
| 4 | Speech slow | Speech & voice; slow speech |
| 5 | Burning of skin from perspiration | Skin; pain; burning, smarting; perspiration, from |
| 6 | Itching <night | Skin; itching; night |
| 7 | Itching <perspiration | Skin; itching; evening; agg.; perspiration, during |
| 8 | Itching of skin <scratching | Skin; itching; scratching; agg. |
| 9. | Complaints from tobacco chewing | Generalities; tobacco; agg.; chewing |
REPERTORIAL TOTALITY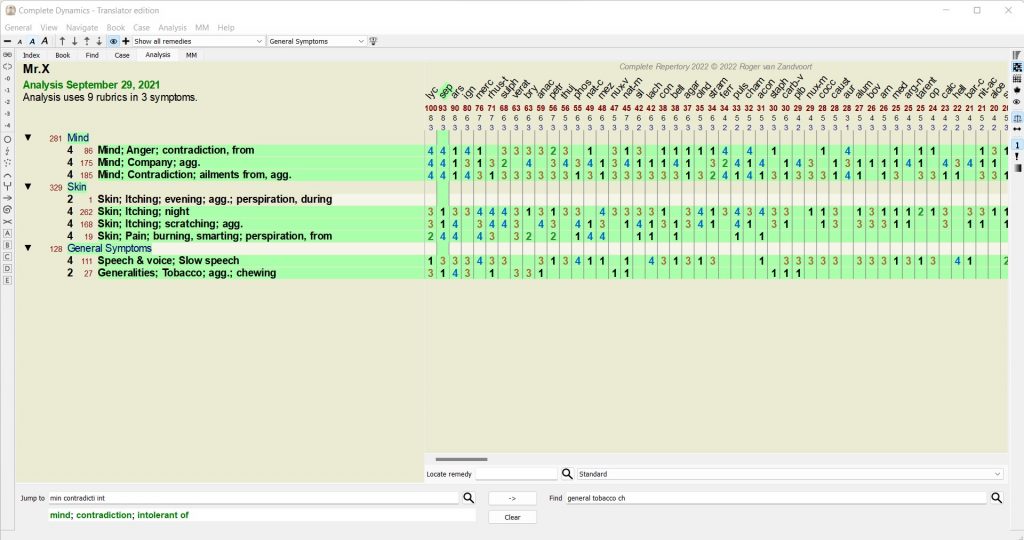 Picture on 29-09-2021
1st Prescription:
NUX VOMICA 200 / OD / 2doses /2 days / 4 globules

SL 200 – Bd- 4 globules- 7 days
1st FOLLOW UP :
ON 8-10-2021 (admitted in IPD)
Mild improvements in the complaints

The patient's complaint of itching and burning of skin still persist.

Skin is dry; vesicles in the fingers are not present
MEDICINE:
SEPIA OFFICINALIS 200- OD-2 doses-2days

SL 200-BD-4 globules- 7 day
2nd FOLLOW UP: ON 14-10-2021
Anger is decreased;

Irritability during the complaint is decreased

Complaints feels much better

Itching and burning in inframammary folds and in fingers is slightly present

Vesicles are dried up and perspiration is decreased; Scratching of skin is decreased Generals-good; Patient got discharged on 14-10-2021
MEDICINE:
SEPIA OFFICINALIS 0/1-OD –2 DOSES/WEEKLY ONCE

PLACEBO- OD – 4 GLOBULES – 7 DAYS
3rd FOLLOW UP on: 29-10-2021
Complaints are improved much.

No itching, no burning in inframammary folds and in fingers.

No bleeding, no vesicles are present

Perspiration is much reduced.
MEDICINE:
PLACEBO- OD – 4 GLOBULES – 3 DAYS
DISCUSSION AND CONCLUSION:
The patient responds well with NUX VOMICA 200 to antidote the previous treatment of medicine. He continued the treatment after 29-09-2021. He got admitted to IPD on 08-10-2021, Based on the reportorial totality – SEPIA OFFICINALIS 200- od-2 doses-2 days was prescribed and he felt much improved in his mental ailments. On 14-10-2021 – SEPIA OFFICINALIS, 0/1 – 2 doses weekly once is prescribed and the patient got discharged.
On 29-10-2021 there is no complaints of skin itching and burning symptoms. Perspiration Is also decreased, no recurrence of skin infection occurred and the patient is well and good.
REFERENCE:
TEXTBOOK OF MEDICINE – KV KRISHNA DAS

SYNTHESIS REPERTORY – Dr. FREDERIK SCHROYENS

LECTURES ON HOMOEOPATHIC MATERIA MEDICA -J.T KENT
---
ABOUT THE AUTHOR
Dr. Suseendran (BHMS; MD Scholar)
Email- suseendranspl@gmail.com
Scholar in pediatrics, Govt. Homoeopathic Medical College and Hospital, Bhopal
Medical student assisting in patient assessments, documenting patient care, maintaining medical records. Has extensive knowledge in medicine with well-developed observational skills.

Practiced Homeopathic medicine in OP's, IP's, RHC facilities, providing diagnosis and treatment for all patients with various disorders.

Endorsed changes in diet and suggested physical fitness
---