ABSTRACT:
Haemoptysis is a clinical condition in which sputum mixed with blood originates from the lower respiratory tract. Coughing up blood irrespective of the amount, a clear history should be taken to establish that it is true haemoptysis or not haematemesis, gum bleeding or nose bleeding. Many episodes of haemoptysis are unexplained even after full investigation and are likely to be caused by a simple bacterial infection. A history of repeated small haemoptysis or blood streaking of sputum is highly suggestive of bronchial carcinoma fever night sweat and weight loss suggestive of tuberculosis, pneumococcal pneumonia is often the cause of rusty colour sputum but can cause frank haemoptysis as can all the pneumonic infections which lead to suppuration or abscess formation.
CAUSES OF HAEMOPTYSIS:
Bronchial disease

*Carcinoma
*Bronchial adenoma
*Bronchiectasis
*Foreign body
*Acute bronchitis

Parenchymal disease

*TUBERCULOSIS
*TRAUMA
*Suppurative pneumonia
*Actinomycosis
*Lung abscess
*Mycetoma
*Parasites

Lung vascular disease

*Pulmonary infarction
*Idiopathic pulmonary hemosiderosis
*Polyarteritis nodosa
*Good posture syndrome

Cardiovascular disease

*Acute LVF
*Aortic aneurysm
*mitral stenosis

Blood disorders

*Leukemia
*Anticoagulants
*Haemophilia
DIAGNOSTIC MODALITY: 
History of patient is very important in diagnosis. For studying haemoptysis include:
Complete blood count 

Chest X-ray 

Bronchoscopy   

MDCT

MDCT Angiography
CASE PRESENTATION:
Complaints and brief history:
A 15yr girl suffering from cough with bloody sputum, which is bright, forthy. foamy. Cough aggravates in the morning. Loss of appetite with weakness. Thirst increased for cold water and Constipation with hard stool. The thermally patient is chilly. The appearance of the face is fair with delicate eyelashes. Hair soft and white dandruff. Plethoric constitution. Wants sympathy from others, Memory is weak and wants to live in company.
Physical examination & past personal history:
Pulse – 84/min, regular

BP – 110/70 mm of Hg

Respiratory rate – 16/min

,

regular

Temperature – 98.40 F

Heart sound – normal

Lungs – Bilateral clear, NO ABNORMAL SOUND

Abdomen – DISTENDED

Paleness in face
Rubric Analysis:
Mind; consolation, sympathy; desire for

Mind; forgetfulness

Head; dandruff; white

Expectoration; bloody, spitting of blood

Expectoration; bloody, spitting of blood; morning; coughing agg.

Expectoration; mucous; morning; cough, during

Generalities; cold; agg.

Generalities; complexion, color of eyes, face, hair; fair, blonde, light; eyelashes delicate

Generalities; tall; slender, pale

Generalities; weakness; anemia, in

Stomach; Desire for; cold; liquids; icy drinks

Stool; Constipation; hard feces, from
Miasm – psora
REPERTORIAL TOTALITY: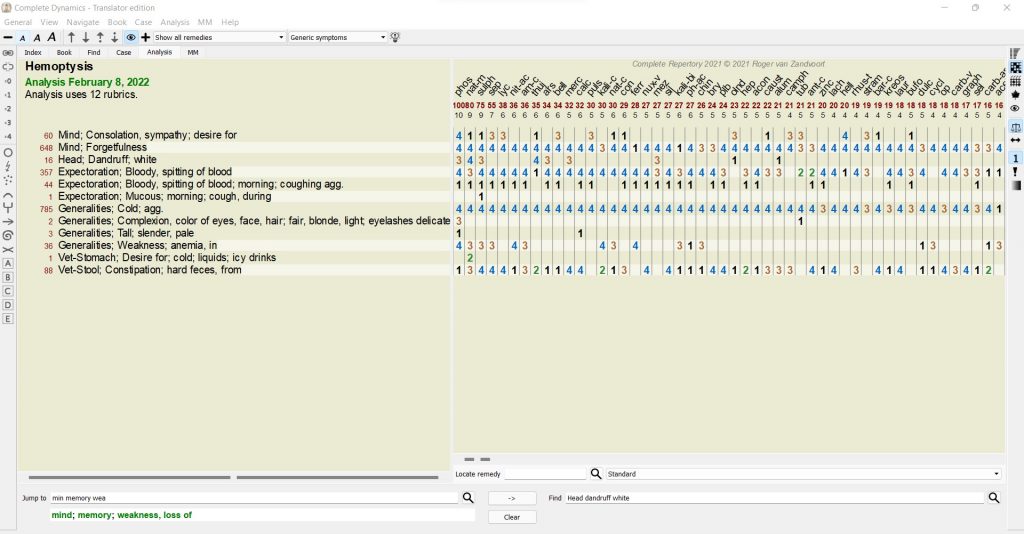 Phos- 29/10

Nat-mur – 25/9

Sulph -25/9

Sep -23/7

Lyc -20/6
Final selection of Medicine –
On the basis of reportorial totality and repertorization 
DATE – 08/02/2022
RX 
PHOSPHORUS 200 (6pills  OD for 3days) (Empty stomach in morning)
ADVICE-
INVESTIGATION –   CBC,   Chest X-ray,  sputum examination for acid-fast bacilli

Avoid sour and cold thinks soft diet plenty of liquid and take rest .
FOLLOW UP AFTER 3 DAYS
DATE – 11/02/2022

Complaints – 

Appetite increased, 

weakness –reduced,

cough decreased      

spitting of blood is reduced,

Thirst increased,

feels happy after 3 days.

Anaemia – present

Acid-fast bacilli negative
RX
PHOSPHORUS 200 (4 PILLS  OD FOR 2DAYS)

RUBRUM 30 (4 PILLS  TDS  FOR 7 DAYS)
2nd FOLLOW-UP
DATE – 17/02/2022

COMPLAINTS –

Cough reduced

Sputum white sticky slightly frothy

Appetite better

Weakness reduced

Feels happy and energetic
RX
PHOSPHOROUS 1M (4PILLS  OD  FOR  2DAYS)

ARS IOD 30 (4PILLS BD FOR 10DAYS)
ADVICE take a soft diet, avoid cold things, and have plenty of water.
RESULT AND DISCUSSION
In this case, there is a possibility of tuberculosis but acid-fast bacilli were not found in the blood. The patient responds very well to the medicines and the patient's sensitivity to immunity ratio has become very good.
---
ABOUT THE AUTHOR
---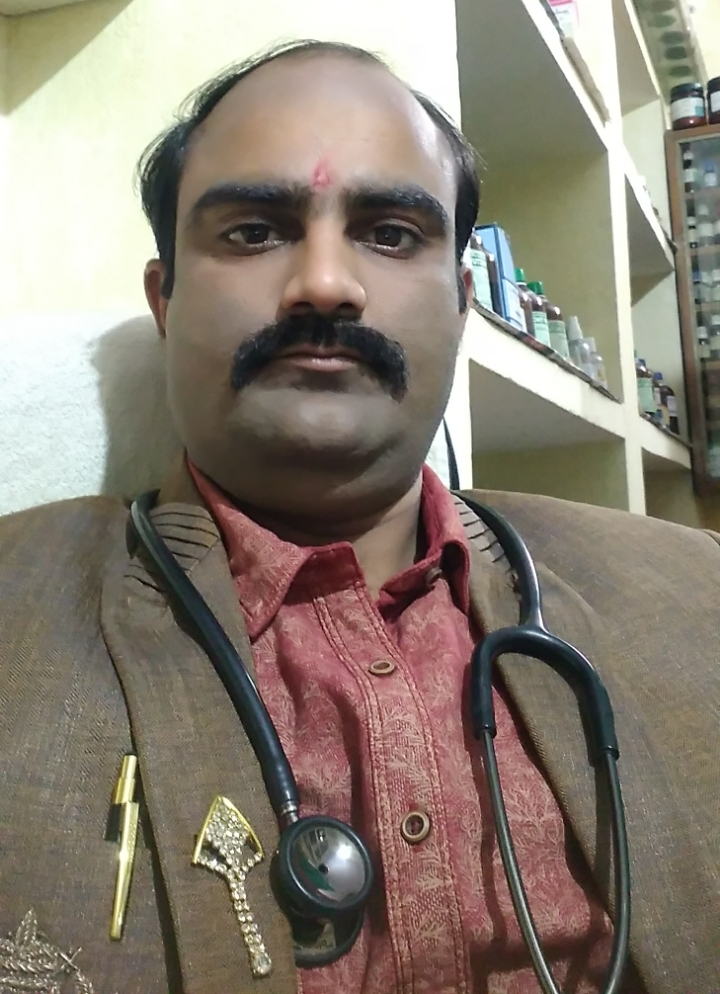 DR. UPENDRA KUMAR TIWARI
MD (HOM.) SCHOLAR (Batch 2020-21)
Department of pediatrics
GOVT. HOMOEOPATHIC MEDICAL COLLEGE, BHOPAL
---
---