AI Based, Indigenous, Instant, economical.
Make in India, Atma Nirbhar Bharat initiative– No more importing of costly equipment and reagents.
The quicker the diagnosis of serious illnesses, the better for the person, his family, and society. But the huge upfront cost of these imported diagnostic equipment for Sickle cell anaemia and recurring expenses in the form of consumables makes the test expensive and also time-consuming as the test is not a routine test and is available only at high-end labs.
Not anymore, researchers at the Department of Instrumentation and Applied Physics, Indian Institute of Science, Bangalore have developed a new blood testing device for Sickle cell anaemia. This device gives test results in less than 5 minutes, that too in 1/10th of the time & cost of presently used test for diagnosis. This AI-based revolutionary indigenously developed portable palmtop rechargeable device uses a mere 1/4th of a drop of blood and can be deployed in the remotest village for testing at the PoC (Point of care) thus bringing down the cost of transportation and curtailing the turnaround time in reaching diagnosis which proves to be lifesaving.
Over 1 million people have SCD
Sickle Cell Disease (SCD), an inherited disorder of the red blood cells, is a major public health problem. It is characterised by repeated episodes of debilitating pain, which are a common and repeated cause of illness and hospitalisation. India, with a population of 1.3 billion individuals, is estimated to be home to over 50% of the world's patients with SCD. The disease is most prevalent across central India, like a belt extending from south-eastern Gujarat to south-western Odisha. Over a million people have sickle cell disease in India today. There are nearly 2,00,000 babies born with the condition every year.
Huge economic burden
Sickle cell anemia csuses Loss to economy because of parents missing work and/or losing their job to look after children adds up to about Rs.3,500 Crores (roughly US$500 million) annually. And also there is Loss to future GDP through childhood deaths, in 2017 was calculated to be about Rs.1,000 Crores (roughly US$150 million).
Sickle cell anaemia being a congenital and hereditary genetic disease it is becoming a significant health burden in India. And hence the only way of tackling this huge healthcare burden is by the way of mass screening of individuals and prevention through avoidance of high-risk marriages.
World's first AI-based portable diagnosis device for Sickle Cell Anaemia
In India, the state of Madhya Pradesh has the highest burden of Sickle cell anaemia. Researcher Prof. Dr.Nisanth Nambison of Government Homoeopathic Medical College, Bhopal faced lots of hardships in the diagnosis of Sickle Cell Anaemia in the deep tribal villages of M.P. He faced challenges not only in the turnaround time taken for the diagnosis but also the amount of blood drawn from the already anaemic patient was difficult and painful. This is when he met Prof. Dr. Sai Gorthi at IISc Bangalore, through their mutual collaboration and hard work of the researchers world's first AI Based portable device was invented for instant diagnosis of sickle cell anaemia. This invention will not only make the process easier, save time, but it is also very economical.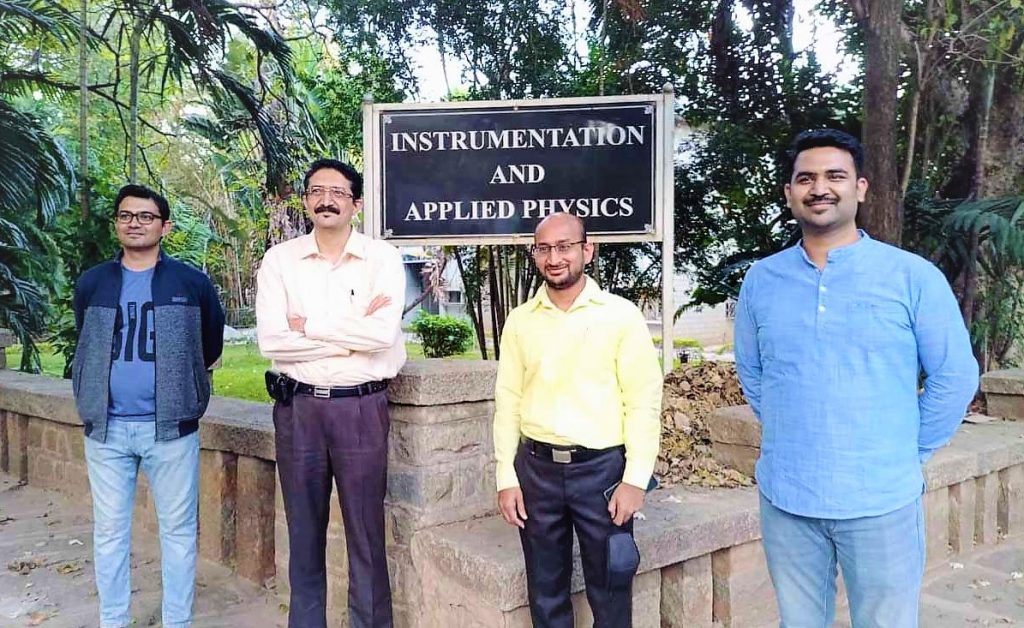 As of now USA tech-based imported HPLC machines used for the diagnosis of Sickle cell anaemia costs 10 lakhs upwards with high recurring and high operational costs. These machines are bulky, need 3 – 5ml blood of the patients, and are only available in sophisticated air-conditioned labs. Therefore, remote blood collection needs transportation in 24 hours, temperature maintenance of 2 to 8 degrees and requires a team of 4-5 skilled people. This adds up to the cost and delayed turnaround time.
According to Dr Nambison, The new technology used in the device makes it portable, mere 1/4th drop (5 µml) of blood is required for the diagnosis of Sickle Cell Anaemia, the test can be performed at the patient's doorstep. It is 10 times cheaper than the currently used HPLC machines. Priced at around Rs.60,000 to 70,000. The health worker does not need any special skill to operate this device. This invention is a wonderful example of Make-in-India & Self-reliant India.
"While it takes 25 to 30 minutes to get the test results from an HPLC machine, we get the results of the test with HPOS Device in less than 5 minutes with this newly invented device", said Dr Nambison.
This sickle cell test kits are now showcased on the Govt. of India AGNIi Portal for innovations. for details do visit the link:
https://www.agnii.gov.in/innovation/sicklefind-sicklecert
How this invention is useful:
Currently available options

Benefits of HPOS Device

– The cost of HPLC Machine is about Rs.10 lakh.
– Each person has to pay Rs 10 for the primary screening test i.e. solubility test.
– A person has to pay about Rs. 400-700/- for a confirmatory HPLC test.
– The cost of HPOS device is about Rs.60,000 to 70,000/-.
– Both primary and confirmatory testing can be done on the same device without any extra expense.
– Will save crores of Rupees and reduce the economic burden of the Government.
– The person needs to give 3 to 5 ml of his blood for the test.
– To store blood, the sample has to be kept at a specified temperature.
– It requires AC room and resources to operate the machine, which requires electricity and other sources of energy.
– High recurring and operational cost.
– An amount of 1 / 4th of a drop of his blood can also be tested.
– No need to store the blood. Handy mobile operated device can be used at the point of care.
– Low recurring and operational costs.
– The HPLC test usually takes 25 to 30 minutes, and it takes 1-2 days for the patient to get the report.
– HPLC testing requires a very trained pathologist and lab technician.
– Difficult interpretation of test results as it involves calculation.
– This device performs blood tests in less than 05 minutes, and the patient gets a report immediately.
– No special skills are required to test with this device.
– AI based device gives results as +ve or -Ve.
Implementation of this invention:
Will save crores of Rupees of the public exchequer.

Will require minimal manpower.

Will save lots of precious time of sufferers.