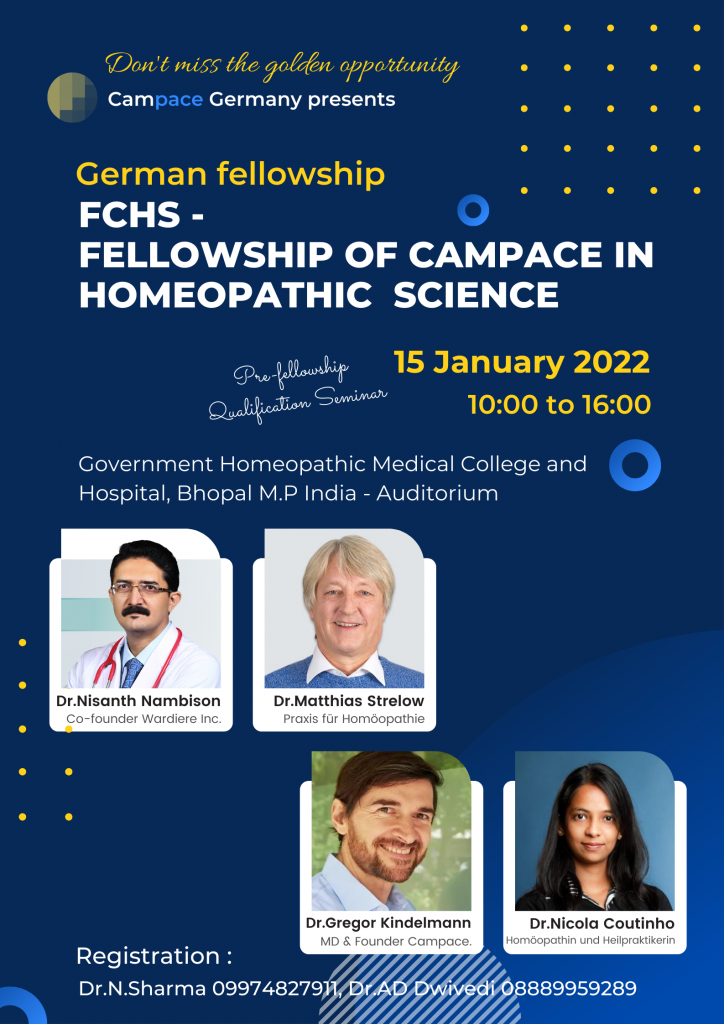 Limited seats hurry-up & register:
Do register yourself from this link: https://forms.gle/zENFc2NJ7EKkC3R48
Campace Germany presents:
German fellowship (First time in India)
FCHS – Fellowship of Campace in Homeopathic Science (WHO-International Disease Classification) through Hybrid seminar cum brainstorming session and assignments completion.
International Homeo-Hackathon: Pre-fellowship Qualification Seminar.
On 15th of January 2021 at Government Homeopathic Medical College and Hospital, Bhopal M.P India – Auditorium a Pre-fellowship qualification seminar has been organised for Homoeopathic Teachers, Practitioners, PhD, PG students & interns, although not mandatory but it will be good if the candidates have a prior knowledge of Miasm classification and some basic understanding of embryology.
We will look at the International classification of diseases 10 (ICD-10) version 2019 and try to you bring it in the light of Homeopathic parameters
The seminar will also majorly focus on hematological disorders.
Only candidates qualifying in this seminar will go forward then complete the assignments to get the fellowship in a grand function.
Mentors:
Dr.Nisanth Nambison (India)
Dr.Matthias Strelow (Germany)
Dr.Gregor Kindelmann (Germany)
Dr.Nicola Coutinho (Germany)
On successful completion, candidates will be honored with FCHS.
For more detail about campace do visit: https://www.campace.org/home-en
For any queries contact: Dr.N.Sharma 09974827911, Dr. A. D. Dwivedi 08889959289