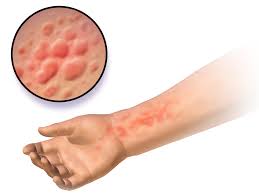 Tetter on the scrotum is cured for a surety, by Petroleum. (Wahle).
A girl had for three years an eruption. Sulphur ameliorated. At the same time the skin became chapped, and the hands and she had herpetic spots on the body, covered with bloody welts. Petroleum cured the whole condition, so that within five weeks of all herpetic welts, there only remained reddened spots which yielded within a week to Calcarea carb. (Jahr).
M, robust, suffered with psoriasis Palmanum, implicating the whole palm, it pained and itched, rendering all work impossible; the palm, of the hand is covered with thick epidermic scales, interspersed with moist chaps and cracks. Gave, March 13th, Petroleum 200, in solution one teaspoonful daily. On March 15th, there was a red eruption on the back of the hand, drawing pains upwards along the arm, and a similar papillous eruption along its course, with symptoms such as patient never experienced before. On March 21st, a similar eruption appeared in the bend of the knee and on scrotum. Petroleum was repeated later on, and in four weeks the cure was completed. (Rummel).
PROVINGS – The finger tips became rough, cracked with stitching cutting pains. Skin looks unclean, even insignificant sores commence to fester and spread. An inflamed large festering sore above the knee. There are small itching vesicles in the angle of the scrotum and upper thigh. Itching pustules on both calfs of the leg. Itching of a red (herpetic) spot inside on the upper thigh.
Reddish itching eruption on the prepuce. Itching Perspiration on the scrotum. Redness and moist soreness on one side of the scrotum.