Will save Rs.10000 crore, bring down morbidity and mortality rate.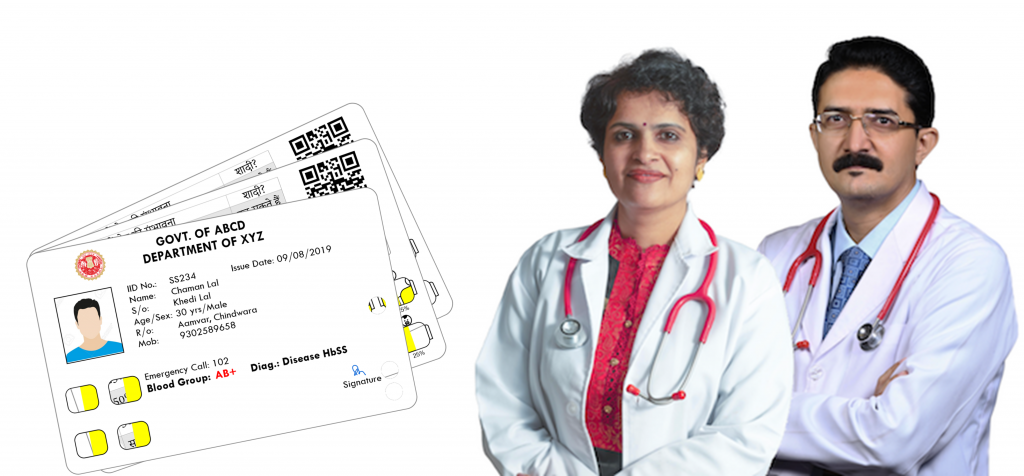 Now no more Sickle Cell Disease and Thalassemia as a doctor couple of India's Bhopal city has invented a forecast card that will accurately forecast the monogenic disorder in the children.
Researcher couple Dr Nisanth Nambison, Associate professor at Government Homoeopathic College and Hospital and his wife Dr Smita Nambison have invented a forecast card that will accurately forecast the monogenic disorder occurs in the children of a married couple.
Dr Nambison said, "This will prove to be a revolution in medical science. Now eradication and prevention of disease without any medicine is possible."
According to the Government of India's National Health Mission, India has the highest number of 42 million Thalassemia patients And about 10,000 to 15,000 Thalassemia Major affected children are born every year in this country, he added.
Dr Nambison said that sickle cell disease in India varies from 1 to 35 percent in different communities, which is an exceptionally large number.
According to the National Health Mission's Policy Document 2016 and WHO, genetic counselors will have to be appointed in health centres for effective prevention of these diseases, he added.
Highest number of sickle cell disease in MP
Madhya Pradesh has the highest number of sickle cell disease patients. Pradhan, Mehara, Sindhi, Punjabi, Gond, Bhil, Bharia, Korku, Kol, Bhumia, Baiga, Sahu, Panika, Chaudhary etc are the most affected communities, as they have many patients of these diseases.
Motivation: Prime Minister Modi had, while returning from Japan after visiting scientists working on gene therapy there, appealed to the country's researchers to find permanent cure for this disease.
Dr Nambison said that sickle cell thalassemia disease was found especially among Scheduled Tribes and Scheduled Caste people. This is one of the reasons for their increased mortality and morbidity rate. The disease is also a major reason for their poverty, he added.
Modi had also described this in Parliament as a terrible disease than cancer.
At present this disease is incurable and people of the affected caste in Gujarat have to go to a marriage counselor. The marriage counselor confirms their genetics through permutation combination whether the couple should marry or not.
Scheduled tribes and castes will now be self-sufficient.
Will positively impact more than 2 crore backward class and scheduled caste community of Madhya Pradesh.
Mortality Rate – The rate of illness will decrease.
(Poor families are unable to go to work due to repeated illness of a family member struggling with this disease, and the family remains poor due to this disease.)
This discovery will be a boon for everyone.
22 Madhya Pradesh districts affected
According to Dr Nambison, Madhya Pradesh's Alirajpur, Anuppur, Balaghat, Barwani, Betul, Burhanpur, Chhindwara, Dhar, Dindori, Hoshangabad, Jabalpur, Jhabua, Khandwa, Khargone, Mandla, Ratlam, Seoni, Shahdol, Shivpur, Sidhi, Singrauli and Umaria are the most affected districts with this disease.
International status: 3 million sickle cell thalassemia diseased babies are born every year. The disease also has affected Afro-American, Africa, Saudi Arabia and many European countries.
Available options & benefits of GIPCI Card
Currently available options
Benefits of GIPCI Card
– Hydroxyurea + Folic acid + Blood Transfusion + Chelation therapy – lifetime, costs Rs.2 lakh per year.
– BMT (bone marrow transplantation) costs Rs 1 crore and 82% success rate.
– Sickle cell thalassemia blood test for Rs. 700/ -.
– Rs. 55 / – to 65 / – card can save crores of rupees – can make a healthy society.
– The burden on health services will lessen due to the less cases.
– Because of less disease, there will be an improvement in the financial burden on the government treasury.
– Savings of Rs.10000 crores per year.
– One genetic counsellor's salary is Rs 7,00,000 per year and 89 blocks require two counsellors, and that will cost Rs 12.50 crore per annum.
– One Counsellor over 75,000 people.
– We have very few 100 Genetic Counsellor in the country. Even in large institutions lack Counsellors.
– No need to go to Genetic Counselor, time, fuel will be saved.
– The elders in the house, ASHA workers, and the people themselves will be able to identify and counsel the possibility of the disease in their children, from the comfort of their home.
– The so-called most difficult task, is now very simple and handy.
– Can do countless match-making at ZERO COST.
– Every seasonal change worsens health, hospitalization has to be done at least 4 times per year.
– Elimination of incurable disease.
– No hospitalization required.
If this invention is implemented
Will positively impact more than 2 crore lives of the state and 20 crore people of the country.
There will be an annual savings of more than Rs 200 crore of the public exchequer.
Celebrities suffering from the disease:
Amitabh Bachchan, Amisha Patel are Thalassemia disease carriers and Jackie Shroff is the president of Thalassemia India Society.
'Aadhi wali Zindagi' campaign -Celebrities campaign every year (Hrithik, Abhishek, Sonakshi, Farhan, etc. people take to Twitter to put up a picture of half-face which means these patients only live half their lives)
What is GIPCI card?
Disease prevention with the help of technology, an extremely simple and inexpensive remedy, one can use it at home, a commendable step in eradicating the disease.
If you stay healthy, lifestyle will improve, financial improvement will follow. For the success of this mission, it will have to be implemented across the country.
In which diseases can it be used?
Useful in 7 types of disease (sickle cell disease, Thalassemia disease, Hemophilia, Cystic Fibrosis, Tay sachs disease, Fragile X syndrome, Huntington's disease)
What to do?
Blood test – Initial test (Solubility, NESTROFT test) – Confirmatory (HPLC, Electrophoresis test). GIPCI cards would be made on the basis of a blood test.
Benefits of GIPCI Card
Identification of patients in school to relieve them from PT or hard work, help the teacher to remind the diseased child to drink water repeatedly, help the patient child not to stand in the sun.
Blood Group Identification for Blood Transfusion.
Warning not to prescribe contraindicated drugs.
Information about what to do with the identification of the possibility of sickle cell and Thalassemia disease in children after matching the card before marriage.
Counseling Video QR Code Scan.
Matching the GIPCI (Gypsy) card is more important than matching the horoscope.
How easy to use GIPCI (Gypsy) card?
To use the GIPCI (Gypsy) card, all that must be done, is, place the male GIPCI (Gypsy) card on top of the female GIPCI (Gypsy) card, a see-through hole will appear in front of the correct result and a cross mark ⓧ will appear in front of all others.
This GIPCI (Gypsy) card tells the possibility of disease in children / getting married/their%/appropriate/inappropriate things.
GIPCI Card

G – Genetic
I – Inheritance
P – Pattern
C – Counselling
I – Identification card
GUIDELINES FOR PREVENTION AND CONTROL OF HEMOGLOBINOPATHIES IN INDIA:
Thalassemias, Sickle Cell Disease and other Variant Hemoglobins 2016 by NATIONAL HEALTH MISSION, Ministry of Health and family welfare, Government of India. https://nhm.gov.in/images/pdf/infocus/
NHM_Guidelines_on_Hemoglobinopathies_in_India. India has the largest number of children with Thalassemia major in the world – about 1 to 1.5 lakhs and almost 42 million carriers of ß (beta) thalassemia trait. About 10,000 -15,000 babies with thalassemia major are born every year.
Sickle cell disease affects many communities in certain regions, such as central India and States of Gujarat, Maharashtra and Kerala. The carrier frequency of the Sickle cell gene varies from 1 to 35 % and hence there are a huge number of people with Sickle cell disease.
GUIDELINES FOR PREVENTION:
Based on the public health goal of reduction in the prevalence of hemoglobinopathies Point No.3: Establishing services at the community level for pre-marital and pre-conception screening backed by genetic counselling services.
Based on the rights of prospective parents at risk of having a child with a serious genetic disorder:
Point No.4: Train healthcare personnel for delivery of genetic counselling services for families at risk.