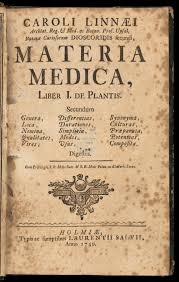 Many interesting comments on books were brought out by Dr. Hughes' paper on "The Teachings of Materia Medica."
"It will be admitted by all," said Dr. Hughes, "that if there is one chair in Homoeopathic colleges more important than the rest it is that of Materia Medica. I do not doubt that the governing bodies endeavour to obtain, and often succeed in obtaining, the best men available to fill them. But from books that have lately been published, from articles I have read in our journals, and opinions I have seen expressed, I have grave doubts whether the subject is always taught in the process either to the master or to his method. What is to be the remedy for this disastrous drift? It lies, I think, in the direction which I have indicated; it is the better teaching of Materia Medica in our colleges, the founding this first of all on the pure pathogenetic effects of drugs. I would urge the making a clean sweep from our lecture rooms of all text-books which do not keep those prominent and distinct. Where Hahnemann has proved any substance, let the teacher begin with his article upon it in the Materia Medica (tell it not in Gath ) possess this work of the master or have ever seen it? And then, for later work done with such medicines, and for the many which lie outside the Hahnemannian list, there at two unexceptionable sources of knowledge If the schematic form be preferred there is Dr. Allen's Handbook where our symptomatology is purged of the dross which encumbered it in his larger work, and where its curative applications appear only in notes. But it seems to me and I think Dr. Allen will agree in the opinion that the true place of his book is found later, and that it should serve as a remembrance rather than a primary source of information. The teacher should present drug action, where possible, as he should disease in the form of clinical cases, and for this purpose he has the Cyclopedia of drug Pathogenesy, now complete and accessible to all, where proving and poisonings may be read in their original narratives. This work is avowedly prepared for the student, and it will be a grievous thing if, as far as he is concerned, the labor expended upon it proves to be labor in vain."
Dr. C. H. Mohr: "I presume, however, that Dr. Hughes was led to write this paper because of the non-acceptance popularly in the profession of the Cyclopedia of Drug Pathogenesy, of which he is the principal author. I have not examined into that question, but I have no doubt that if our college announcements be examined, it would be found that very few of them mention the Cyclopedia; but I want to say that in my judgment it ought to be recommended as a text-book. So far as I am concerned, I would base my lectures upon the Materia medica Pura of Hahnemann and the Cyclopadia of Drug Pathogenesy, as we have it now, because in these we have a fundamental basis for teaching.
Dr. J. Morgan: "I want to identify Farrington's work [Hering's Condensed Materia Medica] with Dr. Hering's as a matter of conscience. Dr. Frrington's book is simply Dr. Hering's remodelled by a young and capable editor, added to with. Great ability and power of his own. From the first to the last pages, however, you will find Hering's Classification by Natural Families of minerals, plants and animals and Hering's Clinical Observations, all being reduced to the fascinating form which we owe to Farrington."
Dr. T.C. Duncan: "I once asked Dr. Lippe how he studied Materia Medica or a new remedy. He answered that he read the proving over carefully, and continued to read it over and over again until he saw by comparison something which was different from all other remedies that he remembered something that seemed absolutely characteristic; and the first time he got a chance to give that medicine he would do so, and watch the effect upon that symptom or series of symptoms, and if it produced and amelioration or decided the cure, he put it down in his book as well as in his mind." Dr. T.F. Allen: "One of the most valuable modes of teaching Materia Medica is clinically, and I must say that I have learned something from every man that has spoken. The last two or three years has convinced me of the necessity of teaching Materia Medica clinically. I had never tried it until three years ago, and it proved so popular with the class that I wish all you teachers would try it. The first case I took from our professor of clinical medicine. He had, during the previous hour, an extremely interesting case of chronic myocarditis. I had never seen a case of that sort, and during the interval between the hour the history had been carefully written out by the assistants of the previous professor. Those symptoms remained upon the board when I entered the lecture room. I said to the class that here is the case of a man I had never seen, suffering from a disease that I had never seen; there are his symptoms on the board, that man wants help and relief of his pains. No man has ever cured a case of this kind; what are you going to do about it ? There were the symptoms so and so. We turned to index of Materia Medica, or Baenninghausen's Therapeutic Pocket-Book, and we got forty or fifty drugs for the first symptom; another lots of drugs for the second symptom; another for the third; and so on to the bottom of the list until we saw Rhus tox. Standing out prominently, and the patient was put upon that prescription. That work impressed upon the minds of the class leading lines of Rhus Tox. From that time on we have had a therapeutic clinic every week.