ABSTRACT:
Verrucae (or) warts is one of the commonest skin infection and it can affect people of any age group and sex. Homoeopathic treatment can surely cure any type of warts on the basis of individual symptomatology and allied factors. Homoeopathy helps in the restoration of the health of the patient.
KEYWORDS: VERRUCAE; HOMOEOPATHY; IGNATIA AMARA AND THUJA OCCIDENTALIS
INTRODUCTION:
Warts are small, fleshy bumps on the skin and the mucous membrane. It is a common benign epithelial hyperplastic growth caused due to the infection with Human Papilloma Virus (HPV). It can either spread from one location on the body to another or from person to person by coming in contact with warts.
TYPES OF WARTS
| | | | | |
| --- | --- | --- | --- | --- |
| CONTENT | COMMON WARTS | VERRUCA PLANA | PLANTAR WARTS | GENITAL WARTS |
| TYPE | HPV-2 | HPV-3 & 10 | HPV-1 | HPV-6 & 11 |
| SHAPE AND STRUCTURE | Dome shaped papules with verrucous formation | Smooth flat topped papules often multiple in number | Multiple small black dots at the surface which are actually tiny blood vessels | Small or cauliflower- like large fleshy and raised growth |
| AFFECTED AREAS | Commonly hands, feet but it can affect any site | Face and dorsum of the hands | Soles of feet and toes | Male-penis. Female-vulva, vagina, perineum. Homosexual Males-perianal region |
| CLASSICAL FEATURES | Filiform with finger like projection | Koebner's phenomena(warts on trauma site) | Multiple warts coalesce to form a mosaic wart | Like condylomata accuminata |
Table 1: Explaining types of warts
CASE DETAILS:
NAME OF THE PATIENT: Mr.X

AGE:30 YEARS

SEX: MALE

RELIGION: HINDUISM

FAMILY: NUCLEAR(5)

OCCUPATION: IT EMPLOYEE

DATE: 17-06-2020
PRESENTING COMPLAINT:
| | | | |
| --- | --- | --- | --- |
| LOCATION AND DURATION | SENSATION AND COMPLAINT | MODALITIES A\F= | CONCOMITANT |
| SKIN: Right index finger since 4 years | Single large warts finger-like projection Usually painless but sometimes he feels pricking type of pain | A\f= grief <Exposure to cold water and things <From smoking cigarettes <Drinking coffee <holding things | _ |
Table 2: Explaining Presenting Complaints
HISTORY OF PRESENTING ILLNESS:
The patient was apparently well 4 years back when he gradually noticed a tiny papule on his right index finger. It slowly increased in size and he started feeling uncomfortable while holding and gripping things. He took allopathic treatment (cryotherapy) for the same but got no relief. It is then when he switched to homoeopathic treatment.
HISTORY OF PAST ILLNESS:
At the age of 12 – Chickenpox- traditional treatment – relieved

At the age of 20 – Typhoid – allopathic treatment – relieved
FAMILY HISTORY:
Father- Tuberculosis

Mother and sister- Diabetes Mellitus
LIFE SPACE INVESTIGATION:
Grief towards his nephew's death (suicide by hanging in his house at the age of 12)

After that incident, his warts complaint got worsened and he was constantly worried about it.

After he heard the news of his nephew's death, he went to that spot, removed the knot and carried the boy on his shoulders.

Since that incident, he wants to be alone and doesn't want to talk to anyone. But if any close relative consoled him, he felt much better.

Whenever he took cryotherapy, the complaint was better for some time but as soon as he thought about his nephew's death the complaint recurred.

While holding anything with his hands he felt a sudden pricking pain in his right index finger which lead him to eventually drop that object.

Even after taking the allopathic medication continuously for 3 years he didn't feel better and therefore shifted to homoeopathic medication.
PHYSICAL GENERALS:
Appetite – Adequate (3-4 times\day)
Thirst – Adequate(cold water -2-2.5liters\day)
Sleep – Refreshing(7-8 hours per day)
Sweat – Increased(Especially over face)
Stool – Satisfactory(1-2times per day)
Urine – Satisfactory
Dreams – Nothing significant
Thermal Reaction– Hot patient
Habit – Coffee-5 cups/day; Smoking- 3-4 cigarettes/day
REACTIONS TO:
Desire to rainy season

Desire cold drinks

Desire fanning

Desire covering

Intolerance to hot summer weather

Desire non veg (especially chicken and beef)

Desire spicy foods

Everythings he desire cold things but it aggravates the warts complaint

Aversion to vegetables (ladies finger and cabbage)
MENTAL GENERALS:
Long-lasting grief about his nephew's death

Worried about his complaint

Desire solitude especially when thinking about his nephew's death

Cooperative and patient

Doesn't get angry easily

If any close relatives consoled him, he felt much better.
EXAMINATION:
P

HYSICAL EXAMINATION:

Conscious

Complexion- Pale

Built- Moderate

Anemia – Pallor(+)

Icterus- Absent

Cyanosis- Absent

Edema- Absent

Clubbing- Absent

Lymphadenopathy- Absent

Pulse -79 beats/min

Blood Pressure – 126/88 mm of Hg

Respiratory rate – 18/min

Temperature -98.6*F
SYSTEMIC EXAMINATION:

SKIN: RIGHT INDEX FINGER

INSPECTION- Single large wart is present, brownish finger like projection, no discharge.
Palpation– Tenderness is present; wart is hard, rough and stony hardness, warmth is slightly present.
DIAGNOSIS:
COMMON WARTS (FILIFORM WARTS) ON RIGHT INDEX FINGER
ANALYSIS:
CHRONIC REPERTORIAL TOTALITY: (SYNTHESIS REPERTORY)
REPERTORIAL TOTALITY

REPERTORIAL RESULT

MIND- AILMENT FROM- grief

Nux-v. – 16\6

MIND-COMPANY-aversion to

Ign. – 12\6

FACE –PERSPIRATION-only face

Phos. – 10\6

STOMACH-COFFEE- agg.

Staph. – 10\6

STOMACH-COLD-drinks- agg.

Sep. – 12\5

STOMACH-SMOKING- agg.

Caust. – 10\5

SKIN-WARTS-brown

Puls. – 10\5

SKIN-WARTS-filiform

Thuj. – 10\5

SKIN-WARST-large

GENERALS-COLD- agg
MEDICINE: (17-06-2020)

IGNATIA AMARA 200 (2 Doses, Weekly once)
SG (2globules-BD – 14 days)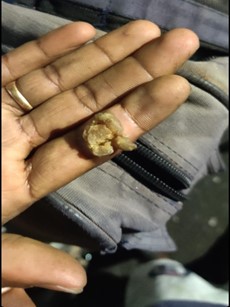 FOLLOW UP: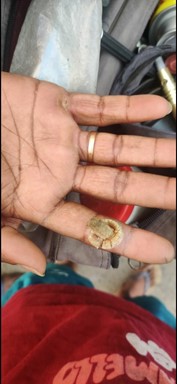 1st Follow Up On 20-07-2020

Patient feels much better.

Grief and worry about his nephews' death is slightly better

Pricking pain has decreased

Finger like projection at the side of the wart has fallen down and the centre is protruded.

Aggravation from cold things still persists.

Wart has turned yellowish in colour from brown.

MEDICINE :

IGNATIA AMARA 1M- 1 DOSE-(STAT)

SL-OD- 2weeks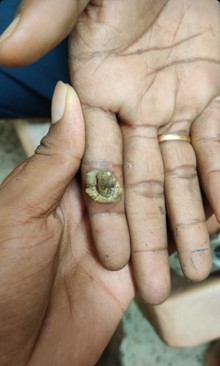 2nd Follow Up On 24-08-2020

Patient feels much better than before

Now he doesn't want to be alone and wants to spend time with his close friends and family

Warts size and shape – slightly reduced

Colour of the warts turned yellowish to dark brown.

Pricking pain has disappeared.

Patient is stable- generals sweat over his face is much reduced;others-good

MEDICINE:

THUJA OCCIDENTALIS 200 (3 doses, weekly once)

SG (2 globules, BD-1month)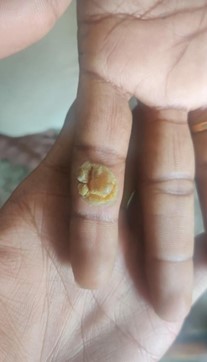 3rd Follow Up On 28-09-2020

Patient complaints feels much better and the size of the warts is reduced

Colour of the warts is brown to slight yellowish in left index finger

Granulation with reddish colour around the warts is seen

Patient is stable-generals-good

MEDICINE:

THUJA OCCIDENTALIS- 0\1 (2 doses; 1st dose on the first week; 2nd dose in 10 ml of water in 10 ml can with 10 succussions (FLUXION POTENCY) in 3rd week )

SG (2 globules, BD-3weeks)
RESULT: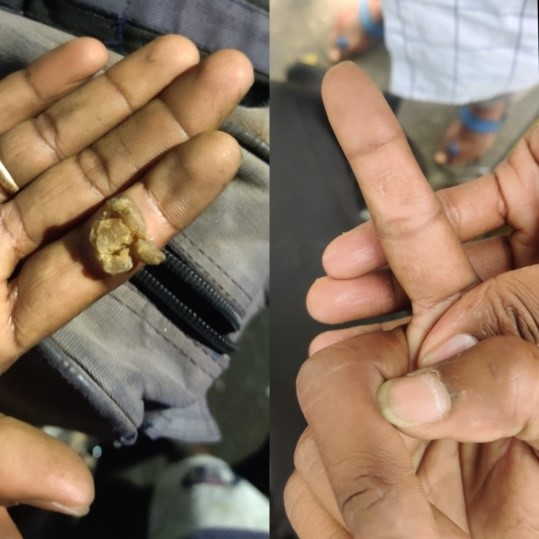 Wart has completely gone.

After 4 months there is no reoccurrence of warts.

The patient is completely cured.
DISCUSSION AND CONCLUSION:
The patient responded well with IGNATIA AMARA 200. He continued the treatment after 17-06-2020. He had much improvement and also feels better in his mental symptoms. On 20-07-2020 –IGNATIA AMARA 1M-1 dose was prescribed, he felt absolutely fine in the mental ailments. Then he visited on 28-08-2020, according to the totality of the symptoms, THUJA 200-3doses weekly once was prescribed, the first dose given on 24-08-2020. After one month, he felt better but granulations with reddish colour around the warts were seen. THUJA OCCIDENTALIS -0/1-2 doses were prescribed.
On 29-10-2020 the wart completely fell off. Even after 4 months, there was no recurrence of warts and the patient was completely cured.
---
ABOUT THE AUTHOR
---
Dr. Suseendran (BHMS; MD Scholar)
Email- suseendranspl@gmail.com
Scholar in pediatrics, Govt. Homoeopathic Medical College and Hospital, Bhopal
Medical student assisting in patient assessments, documenting patient care, maintaining medical records. Has extensive knowledge in medicine with well-developed observational skills.

Practiced Homeopathic medicine in OP's, IP's, RHC facilities, providing diagnosis and treatment for all patients with various disorders.

Endorsed changes in diet and suggested physical fitness
---