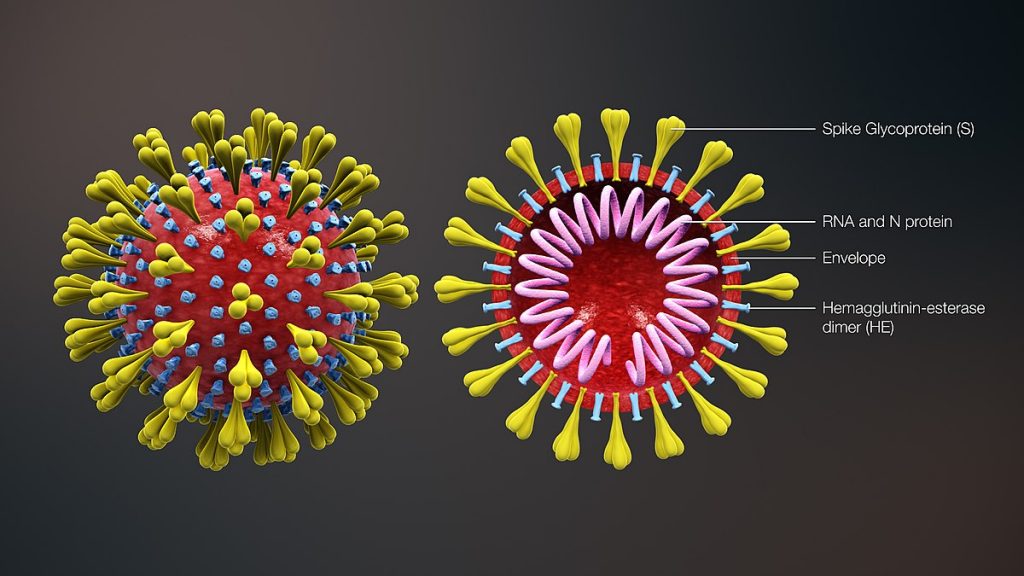 INTRODUCTION
COVID-19 is a spherical or pleomorphic enveloped particle-containing single-stranded (positive-sense) RNA (cRNA) associated with a nucleoprotein within a capsid comprised of matrix protein. the coronavirus replicase was recently predicted to employ a variety of RNA processing enzymes that are not (or extremely rarely) found in other RNA viruses. COVID-19 is mutating to improve its binding to human receptors for infection considering its high mutation rate. Any adaptation in the COVID-19 sequence that might make it more efficient at transmitting among people might also boost its virulence (vRNA). Differences in the length of the spike as it is longer in COVID-19 are likely to play an important role. Human Beta coronaviruses (SARS-CoV-2, SARS-CoV, and MERS-CoV) have many similarities, so Possibility born in the brain that mortality rate character comes from MERS structure and reservoir incubation shape similar to SARS and spreading rate any age any sex fallowness of infection comes from H1N1 and one more change in genome adding from RNA/DNA virus character having Heat Resistance.
SYMPTOMS
Fever, Sore Throat, Cough, Running Nose, Difficulty in Breathing, Tightness in chest, Headache, Pneumonia
TREATMENT PLAN
Based on his combine character and mutation rate these are some of the treatment plan.
Use of Saponin and Flavonoids to improve Immunity.
Flavonoids:

Laboratory experiments have been conducted on the beneficiary effect of Flavonoids on the heart and circulatory system. Flavonoids are also used to mitigate stress, especially environmental stress. Flavonoids are often used for their antioxidant effect against free radicals. There are also strong indications that they have antiviral, anti-inflammatory and anti-hypertensive properties The main dietary sources of flavonoids include tea, citrus fruit, citrus fruit juices, berries, red wine, apples, and legumes. Other methylxanthines found in tea are two chemically similar compounds, theobromine, and theophylline.
Steroidal saponins: Saponins have also been used as adjuvants in the development of vaccines, such as Quil A, an extract from the bark of Quillaja Saponaria. This makes them of interest for possible use in subunit vaccines and vaccines directed against intracellular pathogens. Saponins are also present in Allium species (onion, garlic), asparagus, oats, spinach, sugar beet, tea, and yam.
HOMOEOPATHIC MANAGEMENT OF COVID-19
There are two approaches:-
1. The treatment plan for Non-Hospitalized/ Isolated/ Quarantine Person
These are the group or person of high index of suspicious. it is not a patient but affected with close contact or outbreak place visit, and for the suspected ground of virus incubation period mostly 5-7 days but we observe such person till 14 days.
Always check for:-
Check SpO2 More than 96 in Room
Early Oxygen identification
Early sponging to reduce Hyperpyrexia
Early rehydration due to fever
Early Monitoring
Early counseling
A. Orally:
200 Dilution, 8 drops in one spoon water, early morning, empty stomach. (Choose one drug according to symptoms Similarity)
Bryonia
Arsenic album
Gelsemium
Lycopodium
Camphora
Mother tincture (mix all in 1 bottle and give 20 drops TDS)
Chirata Swertia Q
Ginseng Q
Quillaja Saponaria Q
Ashwagandha Q
B. Diet Plan:
First three days of LFS therapy
It means to give Liquid only, Citrus Fruit, Juice, and Coconut water on the first day.
On the second day, Fluid diet ie Citrus fruit + Coconut water + Cucumber, tomato is to be given.
Plain food in the lunch and dinner with the above-mentioned dose, containing garlic and peanuts, is to be given throughout the day on the third day.
C. Psychiatry Basis :
Here we again divide in to two basic group
Physical symptom
Anxiety and Stress
Dry Mouth
Difficulty in Breathing
Upset stomach
Uncomfort sensation
Palpitation
Difficulty in Sleep
Change in Eating Pattern
Increase Heart Rate
Tremor in Hands
Worse Chronic Problem
Mental Symptoms
Worry
Frustration
Irritability
Fear from Dark
Inability to concentration
Inability to focus on one thing
Sadness of Mood
Feeling of worthlessness.
Homoeopathic Medicines/Management for Psychological effects:
Ignitia Amara, Natrum Mur, Aurum Met, Sepia, Kali Phos, Arsenic album, Aconite, Anacardium, Lilium tig, Rhus tox
2. The treatment plan for Hospitalised Patient
A. Orally:
200 Dilution, 8 drops in one spoon water, early morning, empty stomach. (Choose one drug according to symptoms Similarity)
Bryonia
Arsenic album
Gelsemium
Lycopodium
Camphora
ROLE OF HAPPY HORMONES: DOSE
Hormones are chemicals produced by different glands across your body. They travel through the bloodstream, acting as messengers and playing a part in many bodily processes. These "happy hormones" called: DOSE
Dopamine. Also known as the "feel-good" hormone, dopamine is a hormone and neurotransmitter.
Oxytocin. Often called the "love hormone," oxytocin is essential for strong parent-child bonding.
Serotonin. This hormone (and neurotransmitter) helps regulate your mood as well as your sleep, appetite, digestion, learning ability, and memory.
Endorphins. Endorphins are your body's natural pain reliever, which your body produces in response to stress or discomfort.

Sunlight
Exercise
Laughter
Food
Supplements
Music
Meditation
PATHOLOGICAL TEST:
The specimen tested positive for SARS-CoV-2 in primary by real-time Reverse transcription-polymerase chain reaction (RT-PCR)
Test for detect secondary infection

ECG, ECHO, Troponin T
S. Bilirubin, SGOT, SGPT, PTI
Urea, Creatinin, Electrolyte
Chest Xray, CT scan of the chest, ABG
CBC, Platelets count, Hematocrit, S. Ferritin
LDH
Glycosylated HB
CRP
Ionising Ca
REFERENCE:
---
---
ABOUT THE AUTHOR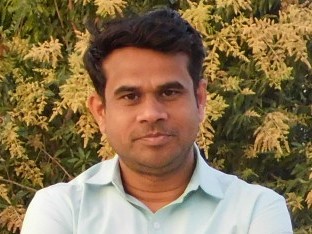 Dr. Narendra Sharma, Project Manager, Dept. of Medical Research, Govt. Homoeopathic Medical College and Hospital Bhopal M.P. (M) 9974827911, drsharmanarendra@rediffmail.com
Nutrition survey on Tribal Zone, Chhindwara, M.P. under UNESCO program in 1999. Medical Officer in C.L.C.M. Homoeopathic Medical College and Hospital, Research Center, Bilaspur, Chattisgarh from 2003 to 2007. Lecturer Certified by Health University Raipur & HOD Pathology in C.L.C.M. Homoeopathic Medical College and Hospital, Research Center, Bilaspur, Chhattisgarh from 2007 to 2011. Investigator Officer, Health India Insurance Mumbai, 2007. Visiting Professor in All India Institute of Paramedical Science College in the year 2009-2011. Lecturer in the Department of Pathology in Ahmedabad Homoeopathic Medical College and Hospital, Research Centre, Ahmedabad Gujrat in 2011. Hospital Manager in Baba Madhav Shah Chikitsalay charitable multispecialty hospital Katni MP from 2015-2018. Presented paper on "Autism and Homoeopathy" in National Seminar in Bhuvneshwar, Orissa 2009. Presented Paper in State Conference, on "Diabetes Mellitus and its Homoeopathic Treatment" in State Conference, Bilaspur, Chattisgarh, 2004. Lead host in "Master Mind of Materia Medica Quiz Show" on basics of famous quiz Show "KBC"
---
---