Introduction:
Ovarian cysts are fluid-filled sacs on the ovary or its surface. When internal bleeding occurs in functional cysts of the ovary it is called a hemorrhagic ovarian cyst.
There are two types of cysts, a) Follicular cyst and b) Corpus luteum cyst. A hemorrhagic ovarian cyst occurs most commonly into a corpus luteal cyst, and less often in a follicular cyst.
Hormonal problems, ectopic pregnancy, endometriosis, a severe pelvic infection, and previous ovarian cysts are likely to risk factors for such cysts. This leads to several complications such as Ovarian torsion and rupture of the cysts.
Case Report
On 28th of December 2021, 30-year-old unmarried girl visited to me with complaints of lower abdominal severe pain with backache for 1 month. The patient had irregular menses since 3-4 months after which she developed lower abdominal pain which was spasmodic in nature more on the right side. The abdominal pain was progressive, radiating to both thighs, aggravated on routine activities. Patient had no history of vomiting. No significant past illness. The operation was advised within 48 hours to her.
After treatment 5 to 6 cm ovarian cyst shrunk to 1cm, hemorrhage stopped and swollen ovary became normal.
Presenting complaints
Severe aching type of pain in the lower abdomen since

1 month.

Fullness heaviness bloating in the pelvic region, having pendulous abdomen.

Irregular menses, delayed for two weeks to 1 month since 4 months.
Family History
Father and mother have a history of hypertension.
Physical General
Appetite – decrease

Thirst – 3-4 ltr/ day, in Large quantity

Bowel – normal

Bladder – normal

Sleep – less, due to pain

Dream – Of the Lord, To perform spiritual rituals, To walk by the sea

Craving – salty, spicy food

Aversion – sweets

Thermal – hot patient
Mental General
Gets easily angry over small things, does not talk to the person with whom she is angry.

Fear of surgery.

She has an irritable nature.

Desire for company, her anger is reduced by consolation.

She has a tendency to cry, weeping disposition.
REPORTORISATION
On the basis of the totality of symptoms, the following rubrics are selected from Complete dynamics homeopathic software.
Medicine Selection
After repertorisation and On referring to materia medica, It was found PHOSPHORUS was the similimum because it covers physical general, mental general for weeping disposition, fear of surgery, and also hemorrhagic ovarian cyst. Hence, Phosphorus 200 was given to the patient twice a day for 5 days.
Investigation
Before the homeopathic treatment: she was investigated for her symptoms on 27-12-2021. A USG pelvis was done. In her report, she had a cystic lesion of size approx 5.2 x 4.0 cm is noted in the right ovary with multiple internal septations within it- s/o hemorrhagic cyst. USG impression suggested Bulky right ovary with hemorrhagic right ovarian cyst.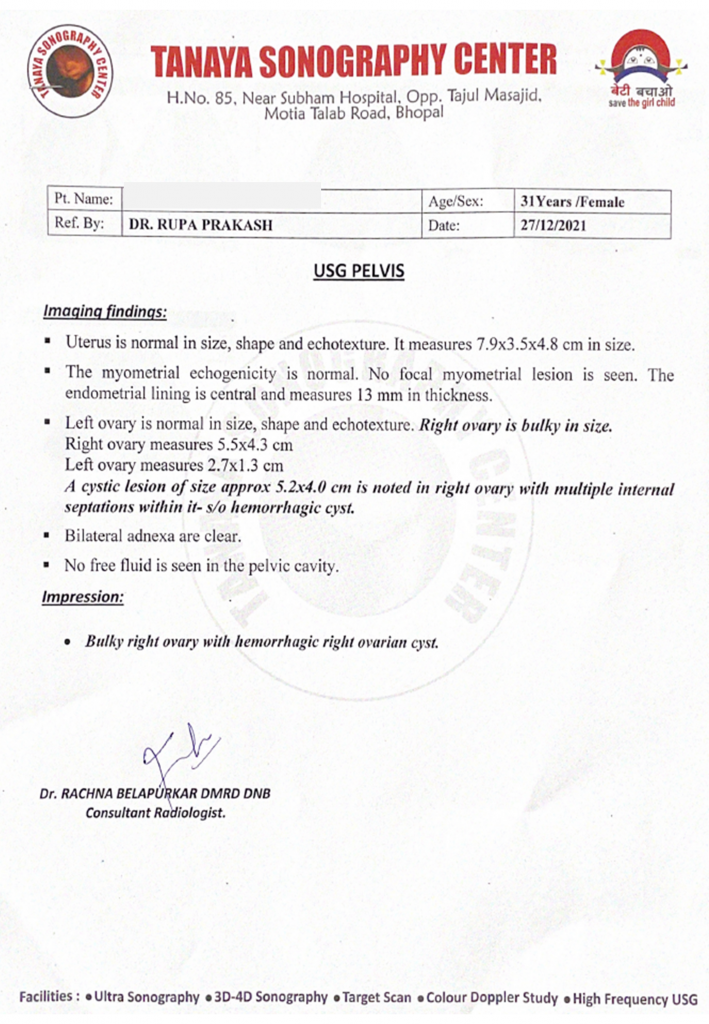 After the homeopathic treatment: she was advised by me to repeat the USG test. On 19-02-2021, A USG abdomen and pelvis was done. USG reveals that, Right ovary is normal in Size and No cyst/mass noted in right ovary.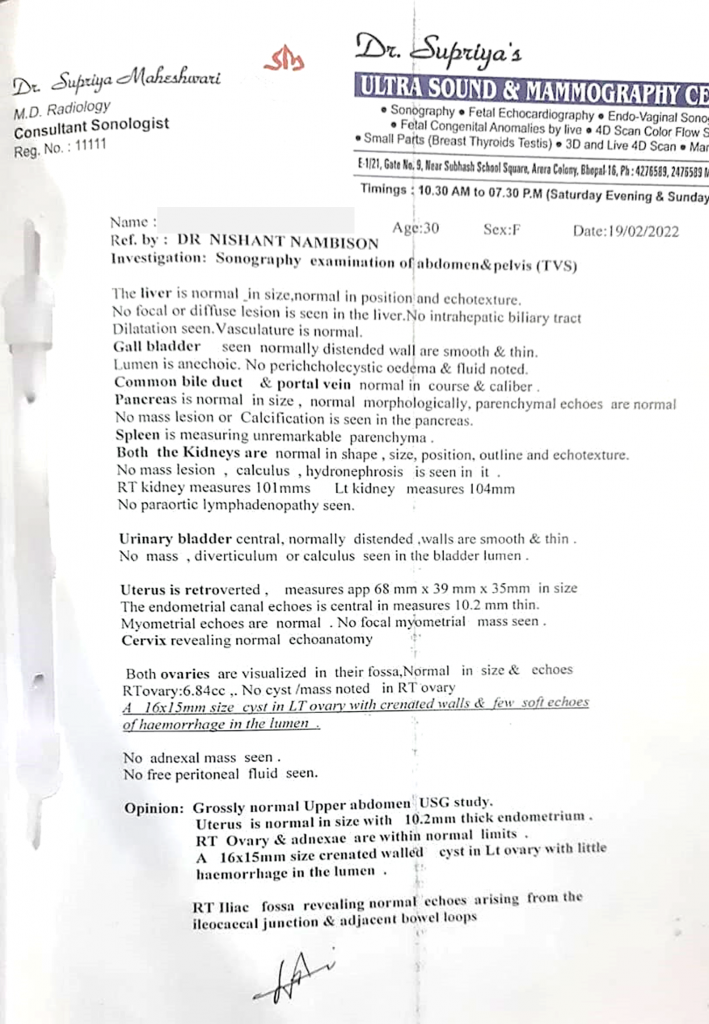 Follow Ups:
On 2nd Visit, the patient's complaints were same. Only appetite and sleep have improved. Hamamelis Q was prescribed along with Thuja 200 single dose, and Mag Phos 6x, Ferrum Phos 6x and Calc Flour 6x, TDS, prescribed for 30 days

On the 3rd visit, menstruation appeared normal, abdominal pain subsided. Sac Lac was prescribed. The patient was advised to repeat the ultrasonography at the next visit.

On 20th Feb 2022, USG dated 19th February 2022 reveals normal ovaries and no cyst/mass noted in the right ovary. The left ovary has a 1.5 x 1.6 cm normal cyst which is cured within 5 days of further treatment.
---
ABOUT THE AUTHOR
---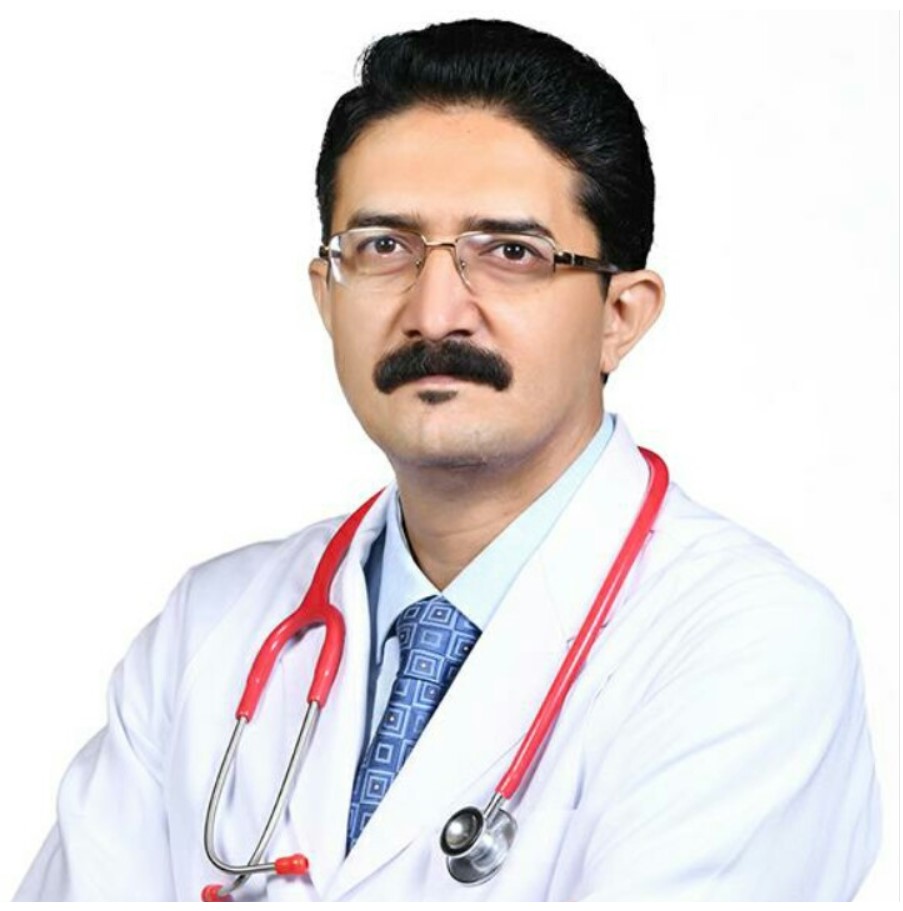 DR. NISANTH NAMBISON (Honorary Consultant)
BHMS (Chg), M.D (Hom), FBIH (London), PGDCA, MDP (IIM) (Gold Medalist)
Ass. Professor, Head of Surgery & Computer Department, Govt. Homoeopathic Medical College, Bhopal (M.P)
Ex-State Convenor, Hemoglobinopathy Mission, Department of Health, Govt. of M.P
Ex-Professor, Faculty of Homeopathy, Malaysia.
Ex-OSD, Directorate of Indian System of Medicine & Homoeopathy, Madhya Pradesh.
Ex-Vice-President, HMAI (Homeopathic Medical Association of India) MP State.
Research consultant & Literature consultant, NL Laboratories Pvt. Ltd.
Speaker (Homoeopathy & IT), several National & International Conferences.
---