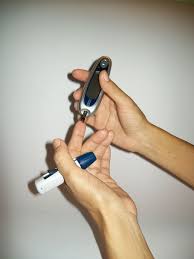 The following case came under my care August 1, 1903: Miss F., aged 36. Thought she was threatened with typhoid; tired all the time – even during sleep; insatiable appetite; ate a great deal of candy; had periodical headaches – usually lasting about three days; accompanied with intense vertigo; constipated; could not remember any time for a period of at least fifteen years when the bowels had acted without "taking something;" passed between four and six quarts of urine per day – more frequently during the headache periods – sometimes as often as every fifteen minutes.
Upon examination, urine was found to be perfectly clear like water and loaded with sugar.
      Treatment. – Directed her to drink water every morning until she could not swallow any more. This was in accordance with the theory of Dr. Edwin R. Heath, of Kansas City, Mo., viz., that the great depletion of the system demands a larger amount of the same substance.
Advised her to "cut out" the eating of the candy, and to eat all the pure maple sugar she wanted.
Inside of two weeks she was drinking more than one quart of water at a time. The natural movement of the bowels followed within an hour after drinking the water.
The only remedy she has had to date is pure, concentrated thyroid extract, six grains daily. She has not, up to this time, had one single return of the headache; has married; weighs 163 pounds; urine perfectly normal; seldom has to get up to void urine at night; says she has not had more than two "bad nights" within the nine months.
Shall continue the administration of the thyroid for, at least three months longer.
      I have never prescribed this treatment in any other similar case. My reasons for prescribing thyroid were because of its effect upon the general metabolism and the increase of the circulation.
                                                                                                  H.G. COLBY-BOND, M.D.