A peer reviewed article (case series) on real cases (including two high risk patients) of Covid-19 successfully treated with Homoeoapthy titled "Pandemic COVID-19: Homeopathic prevention and treatment experiences" appeared in IJHS International Journal of Homoeopathic Sciences the Authors Dr. Nisanth KM Nambison, Dr. Smita N Nambison and Dr. Abhishek Dhar Dwivedi have bravely prescribed Homeopathic medicine in a very fearful situation when the whole country was under lockdown. In the panicky situation the authors made an attempt to treat several Covid-19 positive cases with encouraging outcomes.
Coronavirus disease COVID-19 caused by Severe Acute Respiratory Syndrome coronavirus 2 (SARS-CoV-2), causes pneumonia-like symptoms such as fever, dry cough, and breathlessness.
Due to lack of definitive treatment, physicians worldwide started exploring repurposed drugs, but, without any major breakthrough. Homeopathy has a history of offering preventive as well as curative medication in earlier epidemics and pandemics.
Four cases of COVID-19 were treated with homeopathy alongside the standard care provided by the Hospital to which they were admitted. Two out of the four cases were high-risk patients with co-morbidity. Three classic cases of prevention of COVID-19 in very close contact has also been mentioned.
In the state of highly unpredictable public, patient behavior during total disruption of normal life due to lockdown and pandemic. Braving behaviors ranging from fear of death/hospitalisation, anxiety & uncertainty, Dr.Nambisons make an attempt to present to the profession the true, as is, first-hand experience of handling cases during pandemic. With details of day to day development and progression of each individual case, so that, several hidden but important aspects of these cases come to fore.
These learnings will go a long way in dealing with real cases, deciding and offering treatments during pandemics. This will also shape the present & future homeopaths to present nothing but the truth, so that, the Homeopathic science grows to its highest potential. 
Dr.Nambisons old patients and acquaintances kept calling them on the phone for advice on prevention, pandemic fear, anxiety, etc. Among some of our old patients, who received Arsenic 30 one dose empty stomach daily for three days, taken as prophylactic medicine against Coronavirus infections as per ministry's advisory, two were found to be positive on RT-PCR (Reverse transcription-polymerase chain reaction) for presence of SARS-CoV-2 in their nasopharyngeal swab(22) and were consequently hospitalized. They were tested by the local government administration for positive contact history.
These patients were constantly in touch and received Dr.Nambisons consultation via phone call and procured suggested medicine from the local homeopathic pharmacies, which were exempt from lockdown. Three close contacts of one patient amongst the two of above said cases received homeopathic preventive prescription via phone consultation. Two other hospitalized cases positive on RT-PCR for the presence of SARS-CoV-2 in their nasopharyngeal swab were retrospectively reported of Homeopathic self-medication, who were interviewed in detail for understanding COVID-19 and homeopathic learnings thereof.
CASES WITH TIMELINE
Case 1
A 48-year-old female, Mrs. P, with a history of Hypertension, Deviated Nasal Septum and obesity (considered to be high-risk for COVID-19) sought consultation. She had a contact history with COVID-19 positive patient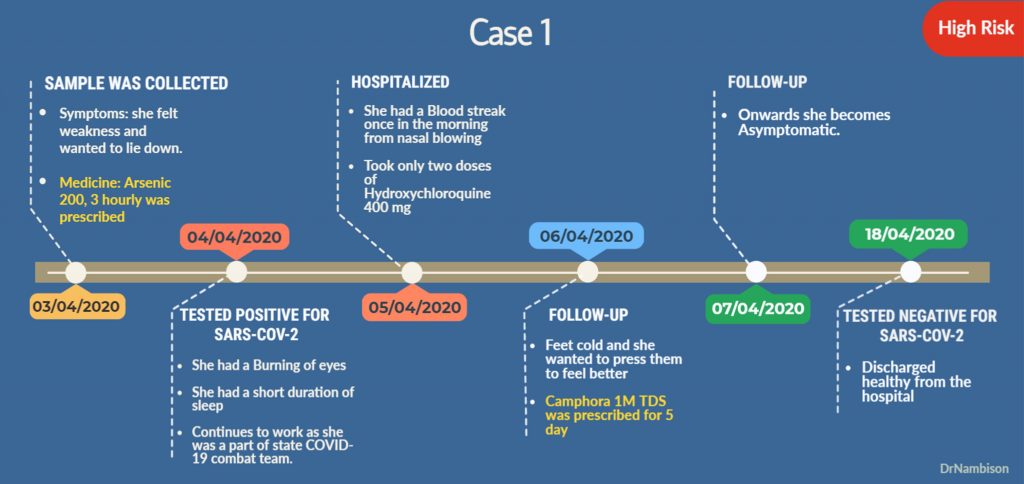 Case 2
A 50-year-old Male, Mr. KB, had no Co-morbidity.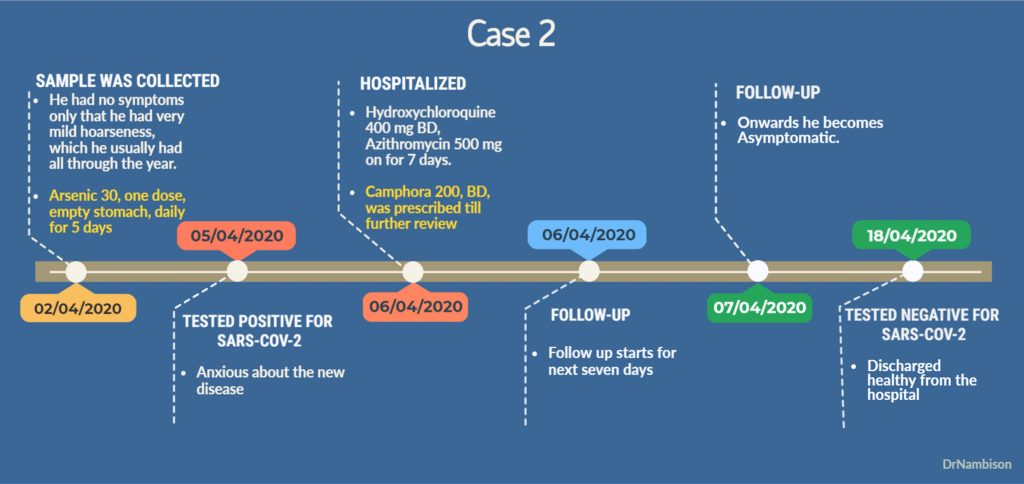 Case 3
Three close contacts of Case 2 (that is detailed as above) 1. 45-year-old wife, 2. elder son 09 years, 3. younger son 07 years. They had no Co-morbidity.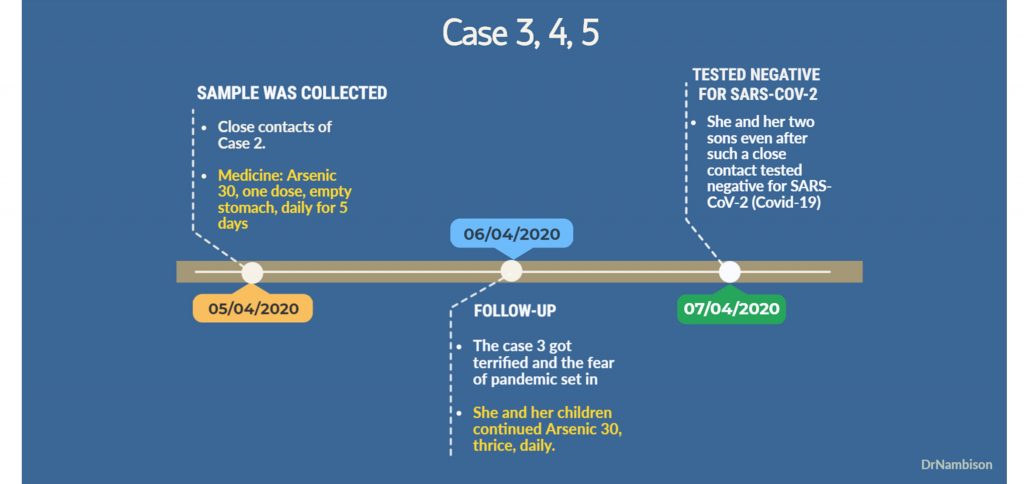 CASE 6
A 62-year-old Male, Mr. KS, reported no Co-morbidity, but, was found to have hypertension on examination. He was obese. (high-risk for COVID-19)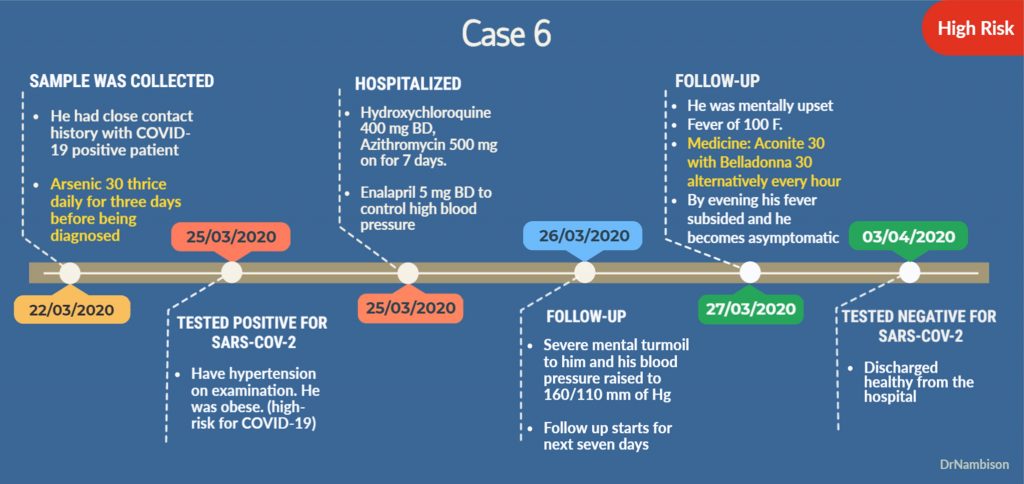 CASE 7
A 26-year-old Female, Ms. G, had no Co-morbidity. Daughter of Case 6.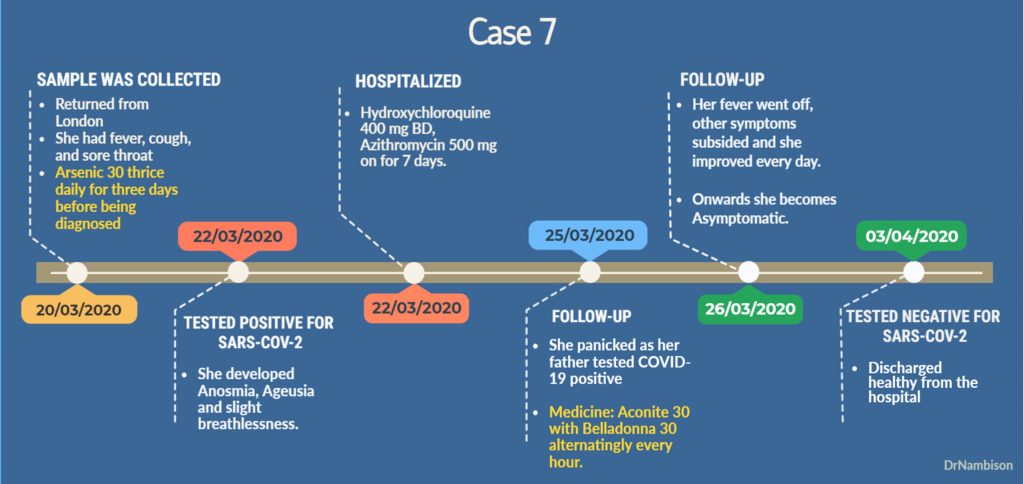 Discussion: All four cases including the high-risk cases of COVID-19 recovered fully without any complications and prevention was achieved in close contact cases with the use of Homeopathy.
Arsenic 30 has been reported in the literature as a useful medicine for the prevention of COVID-19 and also advised by CCRH and the Ministry of AYUSH, Govt. of India. There are no reported adverse effects or complications in the patients.
On comparing the duration of illness with improvement outcome, it is observed that similimum whether Arsenic Album, Camphor, Aconite or Belladonna all were effective in preventing the severe symptoms of COVID-19 and found to be effective in full recovery of COVID-19. It is therefore suggested that more studies should be undertaken, to further ascertain the usefulness of homeopathy in the treatment of COVID-19 patients, as adjuvant or standard therapy.
The debate of Genus Epidemicus continues, Homeopathic physicians world over have come up with different GE and all claiming their choice of GE to be the best. Here we see that the keynote prescription based on the clinical presentation is the best answer.
It would be nice to ascertain the action of homeopathic medicine, as to whether, they act via immunomodulatory effect, or via competitive receptor blocking or some other unknown mechanism. Such discovery shall give hope in working towards shaping medication in such a fashion that a targeted yet holistic approach can be adopted. Thus, eliminating the ambiguity.
| | |
| --- | --- |
| Quick Prescribing tips | |
| Symptom | Medicine* |
| Fear of pandemic, fear of death, with or without fever. | Arsenic 30 thrice a day. |
| Sudden onset of any symptom with fear of death. | Aconite 30 thrice a day. |
| Sudden onset of symptoms with congestion. | Belladonna 30 thrice a day. |
| Fever with muscular pain, with or without cough. | Bryonia 30 thrice a day. |
| Deeper/Bone pain with or without fever and flu-like symptoms. | Eupatorium 30 thrice a day. |
| Dry cough, itching burning throat with dryness. | Wyethia 30 thrice a day. |
| Flu-like symptoms with extreme weakness | Gelsemium 30 thrice a day. |
* To be repeated more frequently based on the severity of symptoms, the dose was reduced as the patient improved.
Learnings thereof have been discussed for larger further studies to explore the Homeopathic offerings to the current COVID-19 pandemic.
Full article can be found at http://www.homoeopathicjournal.com/archives/2020/vol4issue2/D/4-2-13